Is Twitter business success "in the cards" for you?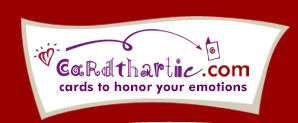 My friend Jayme Soulati sent me a great little story about getting new business through Twitter. I thought you might enjoy it!  Here's Jayme:
The name of the game, as they frequently say, Mark, is developing relationship for ultimate Twitter success. I began tweeting for Cardthartic, a 16-year-old private greeting card publisher, in June.  Currently, we have merely 130 followers and 200 tweets.  Because the web site relaunch was not slated until September 2009, I knew I needed to establish a presence, build reputation and tweet about our passionate greeting cards in a sincere way.
Content is king. No doubt about that. While I could not drive traffic to the antiquated Web site, all I could do was tweet about the greeting within each card. To gain followers, I reviewed trending topics for "florists" who carry our cards that are nationally distributed and kept following people oriented to moms, grandmas, pet lovers, gift givers and florists. In a little over a month, I got my first authentic sale from Twitter!
Here's Jayme's list for Twitter success:
Establish yourself with relevant and sincere content.
Do not directly sell with offensive marketing gimmicks, like teeth whiteners.
Personify yourself; a human is tweeting so who are you?
While tweeting for a company brand is acceptable, come out from behind the curtain and be accessible.
To convert a lead into a sale, ensure you pull in the traditional troops to close the deal.
Monitor, monitor. Had we not been in close touch with the Tweets, we could easily have missed potential sales.
---
Welcome to {grow}

You're in marketing for one reason: Grow. Grow your company, reputation, customers, impact, profits. Grow yourself. This is a community that will help. It will stretch your mind, connect you to fascinating people, and provide some fun along the way. I am so glad you're here.

-Mark Schaefer