Please ignore your customers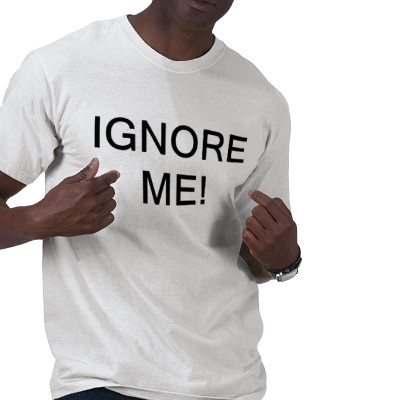 This might be the strangest marketing article you read in awhile but I'd like you to question  conventional wisdom about listening to your customers.  Sometimes, it's simply best to ignore them.
One of the hottest buzzwords is "socialistic marketing" implying that social media enables you to place the brand power in the hands of the people.  I don't think the world is ready for that quite yet.  Here's why:
Customers don't know what they want.  One of the most disturbing lines of commentary I see these days is the reliance people are putting on social media tools for new product development.  SM is a revolutionary "listening" device, but if you rely on it for development ideas, you'll have a steady flow of incremental improvements based on customer complaints but it's unlikely you'll find the next big blockbuster.  That's because consumers typically don't know what they want it until they see it.  As the chairman of Sony famously said, they never would have invented the Walkman if they had asked customers what they wanted.
Big mouths dominate.  One of the biggest challenges with focus groups is that the most dominant participant tends to drown out the majority.  Their opinion overwhelms the true sentiment of the sample because they command most of the air time. Social media is like a focus group on steroids. It's all about finding a way to get attention.  Are the people shouting the loudest on social media really the ones who represent your target market?  When you tune in to the social media cacaphony, are you hearing the signal or the noise?
They're learning to play the game.  If somebody discovers that complaining means they can get attention, or better yet, a free product, a trickle of product complaints can turn into a tsunami, whether there is a real problem or not.  One company president recently told me they simply don't address most consumer complaints any more because the cost of customer service became so high — they couldn't afford to determine what's real and what's a scam.  Is that smart business?  I guess if it's the only way they can afford to keep operating, it is.
Obviously today's headline is a bit sensational — of course you need to embrace and cherish your customers.  I just want you to think twice before embracing this notion of marketing socialism and putting TOO MUCH power in the hands of consumers.  Agree?  Disagree?
Illustration: www.zazzle.com
---
Welcome to {grow}

You're in marketing for one reason: Grow. Grow your company, reputation, customers, impact, profits. Grow yourself. This is a community that will help. It will stretch your mind, connect you to fascinating people, and provide some fun along the way. I am so glad you're here.

-Mark Schaefer