Do you have what it takes to kick social media ass?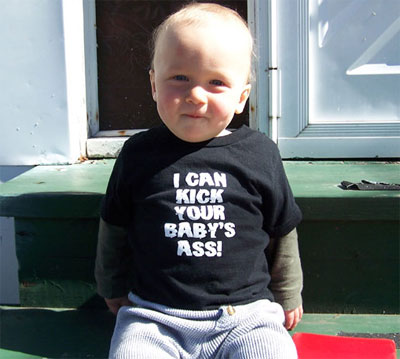 One of my clients is a brilliant management consultant.  This photo … it's not him.
An engineer by training, he does not come by marketing instinct naturally and asked me to help.  This is a customer who is tailor-made for Twitter:
Small business-owner
Enormous, global market potential (needs a lot of awareness)
Small budget
No time to blog, develop content, etc.
Tech-savvy
Is a charming, bright person with engaging personality.
And yet he WILL NOT TWEET.   I coaxed, cajoled and threatened.  I've trained him patiently and even prescribed a daily Twitter regimen.  I demonstrated the power of the platform when I found him a potential new business contact in the first hour of operation.  He didn't follow-up and is perfectly content with his tweet-free existence.
I have been thinking a lot about why.
After observing both spectacular social web successes and failures, I believe there are personal characteristics that make some people more adept on the social media scene:
1)   The write stuff.  Blogging/content development is the centerpiece of most social media initiatives and it's DIFFICULT to do it consistently well.  You must write compellingly, often, and perhaps most important, quickly.  My opinion — being prolific is a huge advantage in this space.
2)   Swagger.  Some liken the social media scene to a cocktail party. But to really be successful, it's more like being a successful public speaker.  Even if you're kind, witty and charming, do you have the CONFIDENCE to put yourself out there in a big way?   Take a stand?  Expose yourself to criticism?
3)  Time management. Everybody knows this. 'Nuff said.
4)   Personality Plus.  I don't want to be mean, but have to be honest … some people suck online … and I don't think they can fix it because they don't know it.  This is the downside of the need for authenticity.  If you're clueless, rude or just love selling people teeth whitening systems, that is probably going to come through in any medium and people will run the other way.  Being authentic and likable matters.  A lot.
Here are characteristics I intentionally left out:  High intelligence, experience, education, and physical appearance.
There is one other overwhelming characteristic that seems to be a prerequisite for success in this space, but it deserves special attention, tomorrow. Can you guess what it is?  What did I miss?
This is Part two of a series on "Self and Social Media."
Illustration: www.tshirthell.com
---
Welcome to {grow}

You're in marketing for one reason: Grow. Grow your company, reputation, customers, impact, profits. Grow yourself. This is a community that will help. It will stretch your mind, connect you to fascinating people, and provide some fun along the way. I am so glad you're here.

-Mark Schaefer