Archive for
November, 2009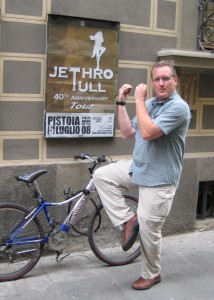 I had  just listened to a Jethro Tull album on my iPod and then saw on my news alerts that the rock band is launching a new, massive tour of the U.S.  To me, this is the universe telling me I need to write a blog about Jethro Tull. This is how my mind works by Friday.
If you give me a minute, I PROMISE there will be an illuminating point at the end that will make you gasp in wonder.
When I was a boy, Jethro Tull was the most amazing band around, combining blues, rock, folk and classical music in incredibly complex tunes. They made an entire album that was one song.  Twice.  Their great rock anthem "Aqualung" was about a homeless pervert.  Their live concerts were theatrical spectacles.  JT was the coolest of the cool.
Since about 1980, most of their music has been crap.  They have not had a hit song since the 1970s. That hit was "Bungle in the Jungle" which is arguably the worst song ever written. The two core musicians, Ian Anderson and Martin Barre are bald and in their 60's and Ian just can't hit the high notes any more.  They continue to limp around the world, playing to elderly, devoted fans.
Like me.
Why would I stick with a band long after they have been relevant … or even very good?  Because there is a deep emotional attachment there. Their music and image evokes some of the best, most exciting times of my youth, some of the best years of rock music.  Jethro Tull MEANS SOMETHING to me!
OK, here is the point you've been waiting for.  The world's greatest marketing associates emotional meaning with a product. Coca-Cola.  Apple.  BMW.  Each evokes an emotion and meaning.  The brands mean something to the customers. Just like Jethro Tull.  Ready … set … gasp!
This is my goal: to build an emotional connection with my readers so they will still love me even when I'm old and writing crap. (This is when you say: "Like today?")
Have a great weekend!
Welcome to {grow}

You're in marketing for one reason: Grow. Grow your company, reputation, customers, impact, profits. Grow yourself. This is a community that will help. It will stretch your mind, connect you to fascinating people, and provide some fun along the way. I am so glad you're here.

-Mark Schaefer