Archive for
November, 2009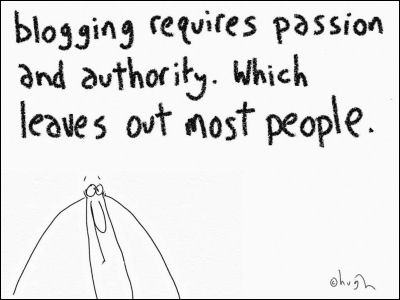 I'm constantly looking for great new marketing ideas and I've found a couple of up-and-coming writers who have become some of my favorite sources.  I wanted to share with you a few blogs that I've been reading for at least a few months, are off the beaten path, and deserve a look to see if they fit for you.
CK's Blog — Christina Kerley is simply one of the best marketing bloggers out there and she specializes in B2B to boot. CK is a consistent source of fresh ideas and original perspectives.  Her blogs are "how-to" manuals!
Digital Marketing Today — Nitin Gupta is just so freaking smart.  He doesn't blog often, but when he does, he provides thought-provoking, thorough commentary.  Nitin recently converted his blog from observations on the financial services industry to digital marketing in general.  Even when it was just about banking I liked it … now I love it.
Dumb Little Man — The world's most useful blog.  A team of writers contribute short, punchy articles on how to make life easier.  Recent topics include "How to manage your time on social media,"  "How to motivate your team" and "Six Tips to Re-Engerize in the Afternoon."  It's not strictly about marketing, but it's just so darn helpful.
Neicole Crepeau — Neicole is a tech-savvy writer and a great thinker.  Her posts on Twitter and social media are consistently interesting and a couple of times each month she really smacks one out of the park with a post that is completely original and provocative.  She is finding her blogging "voice" and is getting better and better each month.
One True Sentence — I don't know how she does it, but Rebecca Denison puts out a summary of the best social media marketing, measurement and PR blog posts of the day … well most days at least!  And she doesn't just cover the same blogs all the time so it's a great way to see a diverse digest of quality social media topics.
Phoenix Rising — Rebel Brown has been consulting on business transformations and start-ups in California for more than 20 years. Why wouldn't you listen to her business advice?  I like her posts because she draws on real-world experience, doesn't pull any punches, and examines the human side of business. It's a fun and ballsy blog.
So there are a few new idea-generators for you to consider.  For good measure, of the "mainstream" blogs, here are the three I read most consistently:
Tough Sledding — Bill Sledzik teaches PR at Kent State University.  His posts are like going to school. I love the way he explores current topics and inserts his own observations and experiences … just like an effective teacher.  He hates to be called a marketing guy but I do it to piss him off.  Bill, it's ALL marketing.
Jeff Bullas — I don't believe there is anybody who provides so much depth to the social media marketing conversation so consistently.  I look forward to every post from Down Under.  The man is very talented and insightful!
Social Media Explorer — For my money, Jason Falls is the best social media blogger in the business.  He covers it all — technology, business applications, trends and opinion.  He's freaky smart, a superb writer and a fellow WVU grad. What's not to like?
OK, I've shared with you … now it's your turn. That's how it works around here!  So, what are you reading these days?  How about sharing your favorite blogs with the rest of the community in the comment section!
Welcome to {grow}

You're in marketing for one reason: Grow. Grow your company, reputation, customers, impact, profits. Grow yourself. This is a community that will help. It will stretch your mind, connect you to fascinating people, and provide some fun along the way. I am so glad you're here.

-Mark Schaefer