Twitter in the trenches: An interview with Lance the repairman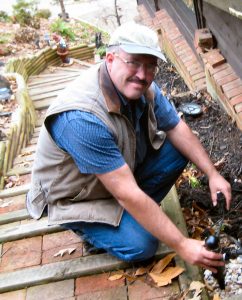 I recently moved into an older home that needs a lot of repair work.  As luck would have it, I had a new Twitter follower this week, @knoxhandyman. Sounded like just the trick.  Called him up.  Met him. Hired him.
And he did a great job so I thought I would provide this interview with this hard-working social media entrepreneur:
Mark: How long have you been a repairman, Lance?
Lance:  Well I'm 49 and I've been doing this about all my life, so let's just say a long time.
Mark:  And how long have you been on Twitter?
Lance:  About 5-6 months.
Mark:  How much time do you spend on Twitter?
Lance:  None. My wife handles all that.  She asks me what I'm doing and where I'm going and what customers are saying and then she puts it out there.  I don't have time for it.  I'm out here working.
Mark:  And do you use anything else beside Twitter?
Lance: Yeah, I get a tremendous amount of work from Craig's List and she also puts it on Facebook.
Mark: So is Twitter working for you?
Lance: Seems to be. I've had a whole let better success there than newspaper advertising, I know that much. Took out a couple of newspaper ads. Zip.
Mark:  And how much of your business is coming from the social media channels?
Lance: I don't really know.  I don't keep track of it very well, which drives my wife crazy.  To me, it's all pretty much word of mouth. It's a call to my cell phone, that's all that matters!
And so I let Lance get back to re-wiring my new outdoor lights, another successful Twitter job completed!
I wanted to share this with you because it represents the REAL world of social media and working people. It's not necessarily about the corporate world of "Trust Agents" or community managers or sponsored posts.  It's about hard-working families and small businesses trying to figure out how to make a buck.  Go Lance.
---
Welcome to {grow}

You're in marketing for one reason: Grow. Grow your company, reputation, customers, impact, profits. Grow yourself. This is a community that will help. It will stretch your mind, connect you to fascinating people, and provide some fun along the way. I am so glad you're here.

-Mark Schaefer