Can Twitter be used as a workplace tool?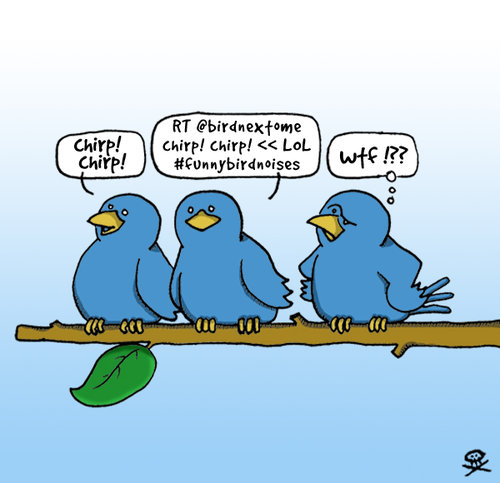 A recent research study by IBM indicates that micro-blogging sites like Twitter can be a powerful internal workplace communications tool.
The study said that despite the inherent simplicity, microblogs are evolving into a richly-nuanced medium for maintaining awareness, building relationships, and finding and sharing valuable information from internal and external sources.
The study analyzed more than 5,000 microblog posts from a group of IBM employees who used both a proprietary internal tool to post and Twitter to post externally. The internal IBM micro-blog, called BlueTwit, has many of the same features as Twitter except it had a limit of 250 characters instead of 140 and could only be used internally.
Some key findings:
Real-time Information Sharing and Awareness — IBM heard repeatedly from employees that the value of Twitter was to get access to good information sooner than through other sources. It provided access to thought leaders without having to know them personally. For instance one person said:
"As far as Twitter is concerned the value is two-fold: learning much of what is happening in the marketplace, picking up trends, and picking up news… get a lot of news items earlier that way than any other way… With Twitter I know it's a human who has selected the information and is saying that you should read this article. RSS feed is robotic selection for topics while Twitter is human selection based on the quality of my network"
Collaboration and Connection — Reading BlueTwit allowed employees to become aware of what their colleagues were working on in areas of the company they would not normally access.   BlueTwit was also used for social purposes. For example, some people used BlueTwit to broadcast lunch and dinner plans asking others if they were interested in joining. An important side effect of microblogging is that mobile and remote workers felt more connected to the company.
Employees  equated interaction on BlueTwit as "family conversation."  Users could engage in constructive criticism of company products since all discussion was internal. They would avoid doing that on Twitter because they did not want to give the company a bad name.  Contrary to a common perception that microblogs are really just for posting messages about personal activities, IBM found that workplace employees are mostly using the tools to post business information and to engage in brief directed conversation with other employees.
Political expedience — Microblogging can increase the visibility of a topic compared to discussing it over email or instant messenger. Since microblogs are generally public and searchable, more people have access to it. Some employees reported using microblogging intentionally when they wanted to get more visibility on an issue. "Value as an employee is to be visible inside the company," said one employee.  Another participant mentioned, "If I only ask questions then people will see me as someone who only asks questions. But if I answer, people will see me as someone as who knows and who can help."
Crowd-sourcing — The report mentioned that one of the benefits of microblogging that has not received as much attention is its use for "crowdsourcing".  Participants said they got a more rapid response to questions because more people beyond their normal network, including many technology experts, were awares of their problems.
Confidentiality — There was no ambiguity about posting confidential information; all participants exercised common sense and were very clear that they would never post any information that might be construed as confidential on Twitter or even BlueTwit.
Negatives:
Participants mentioned that the sheer amount of information on Twitter can get overwhelming, and not all of it is useful.
Some users had concerns about spending too much time wading through various pieces of information. Finding intelligent ways of filtering information in microblogging tools such that only information relevant to an individual user is visible is needed for widespread use of microblogging in the workplace.
IBM found opportunity in using micro-blogging with employees.   Is it happening in your company yet?  Why or why not?
---
Welcome to {grow}

You're in marketing for one reason: Grow. Grow your company, reputation, customers, impact, profits. Grow yourself. This is a community that will help. It will stretch your mind, connect you to fascinating people, and provide some fun along the way. I am so glad you're here.

-Mark Schaefer