Is this the final answer to social media measurement?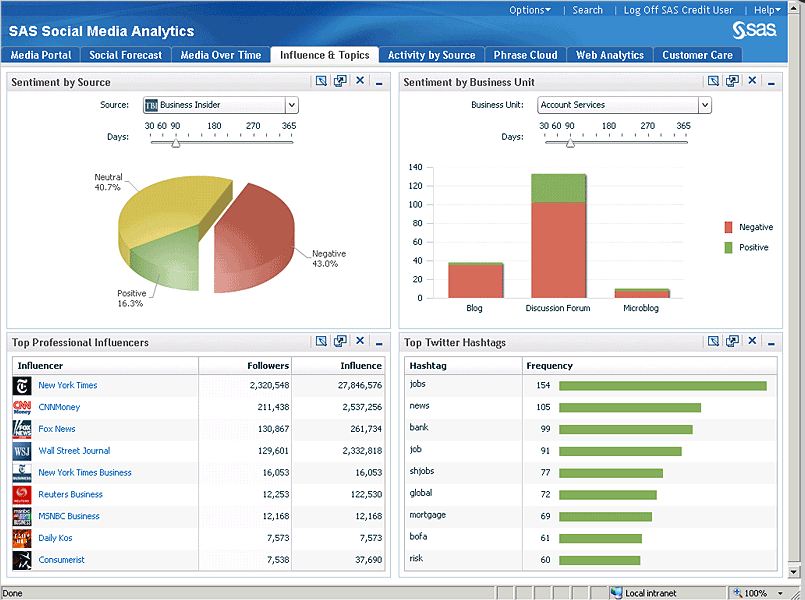 The blogosphere is buzzing about the new social media measurement platform SAS Institute Inc. announced yesterday.   Is there a place for yet ANOTHER social web monitoring tool in a crowded market? And what is so special about this announcement?
The answer is yes, there is a place for this new entry, and here are four reasons why I think SAS will be successful in this competitive space.
Text-sensitive analysis — I had the opportunity to review several social media measurement platforms over the past few months including market leader Radian6.  Everyone is struggling with accurate textual analysis for "sentiment" reports and are loading up on costly human resources to examine tweets for tone and emotion.  Most don't think computers can do it.  If SAS has started to crack this code — and some say they have done this by leveraging their other existing technologies — this will be of immense value to customers.  And hey, they claim they can understand and classify conversations in 13 languages (Arabic, Chinese, Dutch, English, French, German, Italian, Japanese, Korean, Polish, Portuguese, Spanish and Swedish).
Experience — I can say from my corporate days that SAS has a superb reputation in the analytical space and has expert resources that small competitors simply cannot match. During the Internet press conference, Katie Paine (a presenter) said, "Can you imagine the design of experiments we can run with these capabilities?"  Now we're talking!  Putting the SAS computer power and analytical experience to the test in the social media market will produce incredibly powerful, breakthrough insights. We can only hope they make some of the new marketing innovations available to us little guys!
Market access — This move just makes so much business sense for SAS. They are already providing powerful analytical software to many of the most important companies in the world.  They are already embedded in the corporate cultures.  They speak the language. This is a perfect market extension for them.  They already own these customers and this is way to gather in the social media monitoring revenue as well.
Integration with traditional systems — SAS already provides their customers with services such as marketing campaign management, customer experience analytics, marketing performance management and web analytics. Add the social web on top of this and you are looking for some powerhouse combinations, some potentially breath-taking insights.
So that's why SAS is going to kick social media butt.  And notice I didn't even mention the basic analytical capabilities or user interface.  I'll leave that to the tech writers. Besides it doesn't really matter.   Nobody will really leverage technology in this space for competitive advantage when all the underlying data is already available.  Making the technology do tricks is the easy part. Having the market presence, integration capabilities, and customer access — now that's something that SAS can take to the bank.
Is there still room for the other players?  Of course.  First, SAS is going for the large enterprise market. Bring $60,000 in annual fees just to get a seat with the basic platform and $180,000/year for the deluxe model.  That leaves 90 percent of the market for the other guys to squabble over.
Who does this impact the most? Probably Radian6. They've been working the large enterprises like Dell and Pepsi so this will be a tough new competitor on the enterprise scene.  But hey, this is a white-hot, still-emerging market. I would expect to see consolidation and players dropping out on the lower end of the market before the higher end, and even that is going to take some time.
What do you think?  Who are the big winners and losers out of this?  How will the market be impacted?
---
Welcome to {grow}

You're in marketing for one reason: Grow. Grow your company, reputation, customers, impact, profits. Grow yourself. This is a community that will help. It will stretch your mind, connect you to fascinating people, and provide some fun along the way. I am so glad you're here.

-Mark Schaefer