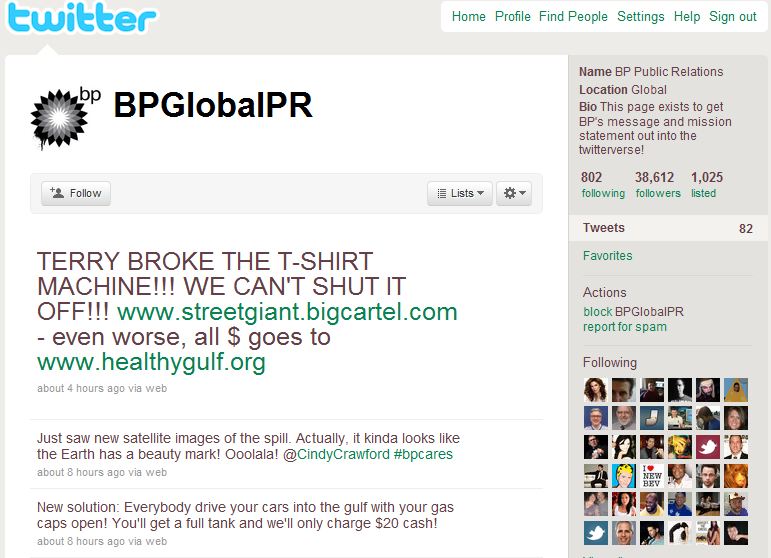 When does online parody cross a line?
By now you've probably become aware of the "fake" BP global public relations account on Twitter spewing humorous observations such as:
"We feel terrible about spilling oil in American waters, we'll make sure the next spill happens where the terrorists live. #bpcares"

"Just wrapped up a meeting with the EPA. Terry kept farting out loud at all the right moments. Not sure how he does it, but it's SO FUNNY!"

"Oh man, this whole time we've been trying to stop SEAWATER from gushing into our OIL. Stupid Terry was holding the diagram upside down."
According to Ad Age, the account started last Wednesday afternoon with this tweet: "We regretfully admit that something has happened off of the Gulf Coast. More to Come."
Fewer than 50 tweets later, the feed had nearly 13,000 followers — compared to the 5,000 or so at the "real" @BP_America — and as of today, the account had about 40,000 followers.  Its humorous blasts have been re-tweeted by everyone from filmmaker Michael Moore to singer Michelle Branch.
Toby Odone, a spokesman at BP, told Ad Age: "I'm not aware of whether BP has made any calls to have it taken down or addressed. People are entitled to their views on what we're doing and we have to live with those. We are doing the best we can to deal with the current situation and to try to stop the oil from flowing and to then clean it up."
While there have been plenty of fake Twitter accounts before, perhaps none has spread so rapidly or gained this kind of momentum. The timing is right, the content is superb, and people are eager to connect emotionally to anyone poking fun at the easy target.
Let's take a look at some of the realities and implications of this development for our own businesses.
1) Is it legal?
According to Twitter's guidelines, it is perfectly acceptable to set up accounts that parody real companies, celebrities, etc. as long as it is clear that it is a parody. Their rule states:
The bio should include a statement to distinguish it from the real identity, such as "This is a parody," "This is a fan page," "Parody Account," "Fan Account" or "This is not affiliated with…"

The account should not, through private or public communication with other users, try to deceive or mislead others about your identity. For example, if operating a fan account, do not direct message other users implying you are the actual subject (i.e., person, band, sports team, etc.) of the fan account.
As of today, the fake account bio reads: "This page exists to get BP's message and mission statement out into the twitterverse!"
So no, it is not an account that meets Twitter's standards. Further, it is causing a lot of confusion because many people are actually taking this as a serious BP account.
2) What should BP do?
BP has much bigger PR problems than a rogue Twitter account.  And making an issue of it and spoiling the fun would probably just heighten negativity against the company.
However, if I were working for BP right now <shudder> I would at least approach Twitter and ask it to enforce its own rules and declare clearly that this is a parody site.  Given the number of people who actually think this is a real account, there is a high probability that quotes from this parody site could start showing up as legitimate quotes from the company and stress the PR department further.
Really, BP's only real option is to withstand the public fury and and eliminate the core problem — the root cause — at the source deep in the ocean and spreading across our shores. And that is going to take years.
3) What should YOU do?
The social web has imparted a whole new sense of meaning and urgency to PR planning, monitoring and response.  How have the rules changed? Or have they? What are your thoughts?
Welcome to {grow}

You're in marketing for one reason: Grow. Grow your company, reputation, customers, impact, profits. Grow yourself. This is a community that will help. It will stretch your mind, connect you to fascinating people, and provide some fun along the way. I am so glad you're here.

-Mark Schaefer