Re-thinking the value of social media consumers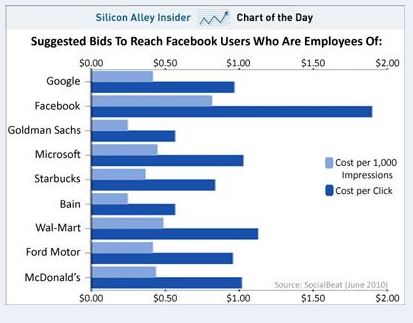 These "suggested bids" reflect what advertisers have most recently paid to reach a demographic group based on CPMs (cost per 1,000 impressions) or CPCs (cost for every time a user clicks on an ad).
Some trends make sense — older (and richer) users are more expensive to reach than younger ones, for example.
But there are some counter-intuitive trends, too.  Japanese users are less expensive to advertise to than Russian users, even though the Asian country's GDP per capita is more than three times as large.
And while in the "real world" you might think it would cost more to advertise to a millionaire Wall Street banker compared to a Wal-Mart employee making an average salary of $20,000, on Facebook, the opposite is true. In the eyes of a social media advertiser, a Wal-Mart employee is worth nearly twice as much as a Goldman Sachs employee, according to Facebook's suggested advertising bid prices!
The reason this resonated for me was because I'm constantly reminding my clients that what they thought about their target customers may no longer be true. In less than two years, there has been a cataclysmic shift in who is spending time on the social web, what they're doing there and how they're spending money.
If you haven't re-visited your customer profiles in the last six months, a chart like this should make you think about it!
---
Welcome to {grow}

You're in marketing for one reason: Grow. Grow your company, reputation, customers, impact, profits. Grow yourself. This is a community that will help. It will stretch your mind, connect you to fascinating people, and provide some fun along the way. I am so glad you're here.

-Mark Schaefer