Build your audience like your life depended on it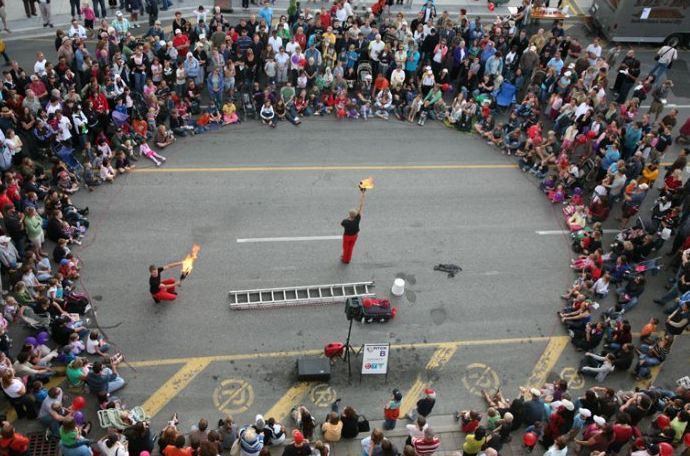 Welcome to Community Week on {grow} as we feature thought-provoking, original thinking from our community members. First up is  Jamie Lee Wallace, who helped me with an outstanding ROI and measurement blog series last summer …
Your business' survival depends on your ability to build, retain, and convert an audience. Sounds simple, but the marketplace is full of distractions and prospects can be a fickle bunch.
Today's lesson comes straight from the streets. Not the mean streets of B2B Marketing, but the cobbled streets around Boston's Faneuil Hall where I watched a couple pros demonstrate how to get the job done in under twenty minutes.  David and Tobin are street performers and they hustle. They have to capture the attention moving targets, turn them into fans, and get them to open their wallets.
Watch and learn, people.
Step 1: Build Your Inner Circle
Before the show started, the guys made a big deal setting up their "stage" (a red rope on the ground), and arranging all their props. The minute anyone got curious and paused, David or Tobin would engage them in light banter. No big sell, no big deal – just an acknowledgment, a smile, or a quick joke. Sometimes, they'd ask the passerby to lend a hand, thus making them part of the team, or "Inner Circle." Nine times out of ten, these people stuck around for the show.
Lesson: Don't wait until the curtain's about to go up. Engage your audience immediately. Build your Inner Circle. These are the people who will be your first audience members.
Step 2: Create Excitement
Once the stage was set, the guys started warming up in earnest with a few flips. The fast movement caught the eye of a few more passersby, but they usually kept walking. Here's where that Inner Circle came into play. The guys asked those of us who were lingering to "step right up." They drew us in tight and close. No longer just a bunch of scattered individuals, we were now a cohesive group – an audience. Now they had us make some noise. David and Toby instructed us, in a conspiratorial whisper, to whoop and holler when they announced the beginning of the show. They were completely transparent about this, saying, "If you make a lot of noise, everyone will think something really exciting is about to happen, and they'll all come running."
Lesson: Use your Inner Circle to build a bigger audience through social proof, word-of-mouth, and testimonials. Be clear about wanting their help and make it easy for them to step up.
Step 3: Make the Audience Part of the Show
Audience rapport is critical to conversion. An audience is just a bunch of onlookers until you make them part of the experience. David and Tobin did this by "letting us in on the joke," pulling people from the audience to assist or even be a "star," and keeping their banter very personal and "localized." They weren't tossing out canned jokes, they were riffing on what was happening in the moment with the people who were in the audience.
Lesson: Create an interaction that is genuine, personal, and relevant. Don't be afraid to let people participate. Build trust by listening closely and adapting based on what you hear.
Step 4: Ask for the Sale
You've created an audience and turned them into fans, now – and only now – can you ask for the sale. David and Tobin asked for our support while balanced some forty feet up in the air on a ladder that was held steady by four audience volunteers. They explained that street performing is how they make their living. They asked if we'd had a good time and what we thought the show was worth. They joked about how they'd never gotten a $20 tip before. Without pulling out the guilt card (too much), they presented their bid for compensation. Then they added the "dare" with the $20 comment. I gave them $10 – the most I've ever given a street performer.
Lesson: It pays to ask, and once you've established a good rapport, it's much easier to make your case and get the results you want.
Bonus Tips
David and Tobin's act leveraged two other important, Big Idea tactics: offering entertainment and giving it away for free. As Mark has said, people want to be entertained . (Granted, street performing is entertainment, but you get the idea.) The giving-it-away strategy is explained well in David Meerman Scott's book, World Wide Rave. Sometimes, to make money, you have to put stuff out there with no strings attached.
So, there you have it. Four simple steps to build, retain, and convert your audience. Do you leverage any of these strategies in your marketing? What could you do more of?
This post was inspired by David Graham and Tobin Renwick of the "acro-juggling" act, "The Flash." You can catch them doing their acrobatic-juggling-comedy thing from Nevada to Scotland to Australia.
Jamie Lee Wallace provides full-service and DIY marketing solutions to entrepreneurs, start-ups, and creative types. Visit her at www.SuddenlyMarketing.com.
---
Welcome to {grow}

You're in marketing for one reason: Grow. Grow your company, reputation, customers, impact, profits. Grow yourself. This is a community that will help. It will stretch your mind, connect you to fascinating people, and provide some fun along the way. I am so glad you're here.

-Mark Schaefer