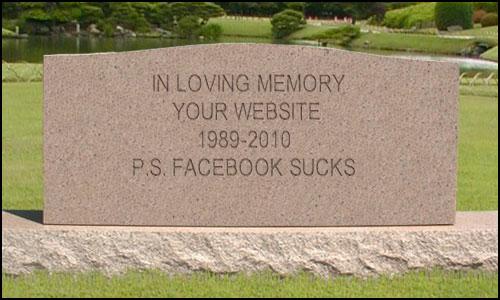 I've had fun attending and presenting at Cincinnati's progressive Digital Non-Conference (#dignc) this week and a highlight was the spirited debate provoked by Pete Blackshaw, executive VP of NM Incite. 
His presentation "Do you still need a website?" played off of a now slightly-famous article he wrote for Ad Age about a month ago.  Pete upended much of the social hype and defended websites, as long as they continue to evolve to be more timely, adaptive, and content-oriented:
A smart website feeds and refreshes the brand stands. It anchors the brand database, arguably the most coveted asset, and sets the tone and standard for the brand's ethos and attitude about feedback, expression and service. Put another way, it establishes that first critical (often unforgettable) impression. A great website also smartly syndicates, re-circulates and curates social content from the brand stands.
Based on the comments from the social media-saturated crowd, many disagreed with him, with one gentleman stating flatly that all he needed was for somebody to "like" his brand on Facebook and he had all that was required to market to them.  Several people declared in side coversations that websites are dead and that many businesses can function just fine with only a presence on the social web.
The presentation was certainly lively, the time was short, and I had been left wishing that I had a way to comment more fully on the talk.  Oh wait.  I do.
Pete and I are aligned in our view of the website and its changing role in the era of the social web. In fact, I am presenting today on a subject that will compliment his discussion quite nicely. **
However, in the entire hour-long discussion, the most important reason for a sustaining a website was entirely neglected:  This is the place where you ask people for their money.
Sure, social media is great for engaging and listening, customer service and research, creating loyalty and telling stories. But rarely do we ever use it to really, truly sell stuff.  In fact, selling is the antithesis of social.  But at some point, we all need to make a living. Yes, customers can be our Facebook friends, but they still have money and we want it. 
In fact, I think the best social media marketing strategy is to systematically populate outposts (or "brandstands" as Pete calls them) that direct people BACK to a website that asks, "Hey Bub, how about buying something now?"  And that's one of the primary reasons why most organizations will always need a website … to ask people to give you their money, sign up for your webinar, donate to your charity, enroll in your university or whatever else you need them to do. It is where the action takes place that sustains your organization.  You can't feed a family with tweets or page views. 
Now of course quite sophisticated eCommerce systems are emerging on Facebook and will probably show up in other channels too. But I have to ask you, do you really want to hand the family jewels to Facebook?
During the conference, a new friend told me the story of a brand that spent $20,000 on a glorious eCommerce application for their Facebook site.  A day before the site launched, Facebook changed the underlying technical requirements, obsoleting the entire development initiative. It could have been worse — the brand could have already launched and had the connection to their revenue stream go down indefinitely.
The point is, we don't have to be "social" about everything. Sometimes mission critical processes like collecting money from people should reside in the cozy confines of your good ol' IT department.
In the end, the only thing you really own on the Internet is your website.  Let's not be too quick to bury it. 
** I believe a podcast is being made of the event and if I'll let you know if and when it's available.
Welcome to {grow}

You're in marketing for one reason: Grow. Grow your company, reputation, customers, impact, profits. Grow yourself. This is a community that will help. It will stretch your mind, connect you to fascinating people, and provide some fun along the way. I am so glad you're here.

-Mark Schaefer