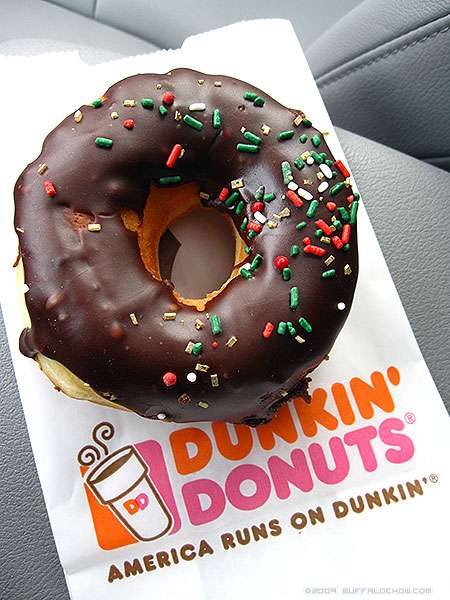 This is going to be one sweet blog.  It's about donuts and ice cream.  What's not to like?
Am I out of touch or does the following statement also strike you as deep-fried, chocolate-covered hooey?
"Customers will decide what our brand is about. And there is nothing we can do about it.  And that is a very liberating thing. In the end, you can't control it. And that's the beauty of social media.  And that means marketers have to let go – a little."
This is a comment made by Dunkin' Donuts Brand Marketing Officer Frances Allen during last week's OMMA conference in NYC.*
I had a visceral reaction to this statement.  It hits all the popular social media buzzwords about the power of consumers and letting go of the conversation … but let's not sugar-coat anything (yes, that was intentional) — this  just strikes me as so wrong.
I don't know France Allen and I'm not that familiar with the history of DD, but I do know quite a bit about Ben & Jerry's (a U.S. premium ice cream brand) because I teach a case about the company in one of my classes.  Seems like this is a similar, sweet, occasion-based treat, so for argument's sake, let's lump the two companies in the same product category.
There are so many ice cream brands on the grocery aisle, it can make your head spin.  But B&J stands out like no other brand by promoting three core values:
1)    Fun. Everything about B&J is playful: the names of the flavors, the packaging, the website, their crazy contests.
2)    Quality. It's an expensive treat and B&J are fanatic about their ingredients and how they're blended. One famous R&D innovation was developing the first real marshmallow stripes in an ice cream.
3)    Social responsibility. The founders of the company set out to show that you could create a company that can also take care of people and the planet.
The B&J marketing folks go to extreme measures to develop and market products that enhance this precious brand image.  And they have done a superb job, creating a powerful brand equity for the B&J name.
Who decided these three brand pillars – what the brand is about?  Consumers?  Perhaps indirectly, but no, a marketing team is responsible for the brand vision. No focus group handed it to them on a silver platter.
Are consumers in charge of the brand image?   No again.  While every nuance of their product offering is tested exhauastively, talented marketing professionals drive the image through brilliant products, strategies and advertising.
Have the marketers "let go" of their brand since the advent of social media?  I honestly don't think anything has changed at all.  Sure, there are new tools to "listen" and "engage," but marketers have ALWAYS listened and engaged. This is just a new way to do it.  I think it's pretty arrogant of any marketer to assume they had control of a consumer conversation in the first place.
So how do you reconcile the Dunkin' Donut position with my views of social media's impact on traditional marketing?  Or can you?  Are we flunkin' Dunkin Donuts?
Disclosure:  I would choose a pint of Ben & Jerry's Cinnamon Bun Ice Cream over two dozen Dunkin Donuts any day.
*This comment was featured in a blog by Nitin Gupta, a regular contributor to the {grow} community.  I highly recommend his blog 'Digital Marketing Today." 
Welcome to {grow}

You're in marketing for one reason: Grow. Grow your company, reputation, customers, impact, profits. Grow yourself. This is a community that will help. It will stretch your mind, connect you to fascinating people, and provide some fun along the way. I am so glad you're here.

-Mark Schaefer