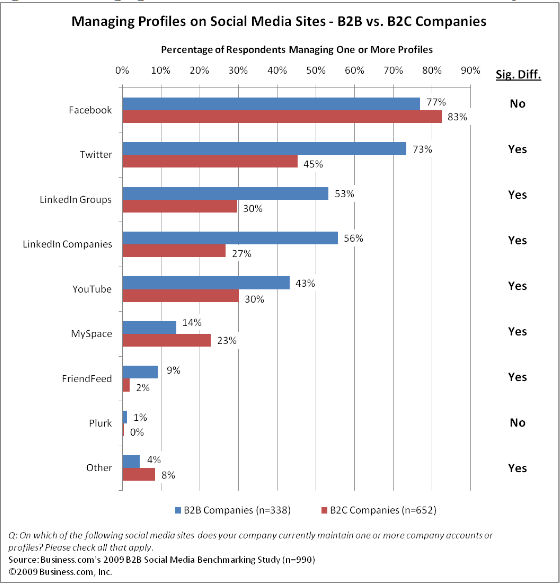 Yesterday Business.com released additional results of its milestone study of social media  usage across American business, this time with a focus on B2B.  This research should put an end to the argument over the relevance of social media in the industrial sector. In fact, it appears that by percentage, B2B is ahead of B2C in some key categories.
Like the general study I reported last week, this report is chock-full of details by industry, job type, and social media platform. It's significant because of the scope of the study and the statistical rigor applied to the results. I recommend spending time with this survey, but here are some highlights that caught my attention:
B2B (defined as companies with >2/3 sales to other companies) actually show as much, or more, involvement in social media as counterparts in B2C.
Professionals working on social media devoted 21% of their time to this activity versus 18% for the study average (this would imply a much lower rate for B2C but the number is not broken out).
 B2B company respondents have somewhat more experience with business social media initiatives than their peers in B2C and mixed companies – 30% of B2B respondents have less than one year of business social media experience versus 35% across the study
 The study showed a statistically significant difference in social media activity with B2B's dominating in 11 out of 14 social media categories. The three exceptions are – there's no B2B versus B2C difference in the percentage of companies managing online communities, and B2B companies are significantly less likely than B2C companies to monitor online ratings/reviews of their products or services and to advertise on social media sites.
B2B's are more likely to pay for social media monitoring platforms.
B2B's are having better fortune seeing an impact of social web projects on their web traffic (70% versus 62%); Revenue (60%/52%) and sales leads (57%/53%).
Marketing owns the social media initiative in 76% of the B2B's versus 63% B2C.
B2B companies maintain a high presence on social media sites, with 81% maintaining one or more accounts on sites like Facebook, Twitter, and LinkedIn. B2B companies are much more likely to engage in micro-blogging on Twitter than B2C companies.
It should be noted that of the total survey participants, just 25% were B2B, indicating that overall adoption of social media probably lags B2C.  And while the most highly-publicized success stories are eminating from B2C, this study shows conclusively that among those participating in the social web, B2B's may be engaged more deeply and more broadly than their B2C counterparts … some of the most surprising, and compelling, conclusions I've seen in this field.
What are your thoughts on this research?
Welcome to {grow}

You're in marketing for one reason: Grow. Grow your company, reputation, customers, impact, profits. Grow yourself. This is a community that will help. It will stretch your mind, connect you to fascinating people, and provide some fun along the way. I am so glad you're here.

-Mark Schaefer