Posts tagged
customer satisfaction
Here's a simple but important tip for getting more for your marketing money: profile your best customers.
The term "profiling" has negative connotations from a social perspective but for your business, it's one of the most effective tools for determining where and how to conduct your business. If you have a grasp on what type of people are most likely to purchase your products or services, you can seek out the location and the marketing plans that give you the best opportunity to reach those people.
The number of ways to sort your customers is endless and really depends on the needs of your business. Here are just a few of the ways you can segment your most profitable customers:
1) What do your best customers have in common?
Are they in a common industry?
Do they seem to have the same role at their company?
Do they face a similar problems or challenges?
Similar buying patterns?
How do they use your product?
Do they belong to similar clubs or charities?
Do they have the same interests, attitudes and habits?
2) How did you attract your top customers?
Website?
Advertising?
Conference?
Networking?
Cold calls?
You may be surprised at the results! Once you've divided customers into sub-segments, consider the implications for your marketing strategy:
Are your initiatives aligned with the profile of your best customers?
If your customers strongly share certain characterstics, how can you adjust your message and channel to better appeal to these folks?
If one marketing channel seems to be working better than others, do more of it and cut the rest.
If your business is down due to the recession, this might be the perfect time to step back and do some introspection on your sales and marketing strategy. While there are many sophisticated techniques, databases and CRM software applications aimed at helping you organize this information, even a small business on a budget can do effective customer profiling with little expense.
Here's one simple analytical method available to almost everyone. Most small businesses use Microsoft Outlook to organize emails, contacts and calendars. In the "business" edition, it's possible to set up searchable, custom fields to collect detailed information. If your profiling needs are simple, you can even search words you've added to the "notes" section of the basic Outlook edition. Start logging the source of new customers in their profile (like "cold call" or "website"). You can then enter these terms in the search function and, with the push of a button, generate a list of customers who share these characteristics.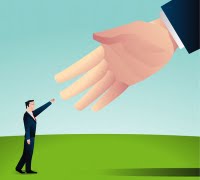 This is part three of a series providing the essential marketing strategies you MUST drive during this economic downturn.
Allow me to start with a story. It's short and you'll love it!More than 50 years ago, Alcoa helped a struggling start-up who had a big idea – make pie pans and other shallow containers from formed aluminum. The company had some early financial setbacks but Alcoa saw the potential of the new company and helped them with R&D and favorable credit terms to ease them through their early growing pains.
The company's founder was so grateful, he promised he would always give Alcoa 100 percent of his business. On his deathbed, he whispered to his son, "Stick with Alcoa. They brought us to the dance."
In a time of struggle and turmoil, Alcoa took this customer under its wing and literally earned loyalty beyond the grave! This is a great story to illustrate my final imperative in this recession marketing series: EMBRACE YOUR CUSTOMER.
Your customers are probably struggling during this recession. So acknowledge that. Reach out to them. Help them. Treat them like human beings who are suffering.
This is the time to show customers what you're made of. You tell them you care – now show it. You want to find mutually-beneficial solutions – work even harder for those win-win business offerings. Really listen and understand what you can do – together – to make it to the other side of the downturn. This is an opportunity to build rock-solid, long-term relationships and deep customer loyalty.
In the teeth of this recession, one car company actually INCREASED sales. Hyundai. How did they do it? They told their customers that if they bought a new car and then lost their jobs, they could walk away from their payments. Now THAT is a bold, meaningful statement. They have embraced their customers and demonstrated compassion when it was needed most. Only time will tell, but this corporate compassion will probably pay off for years.
What bold and compassionate move can you make to build long-lasting customer loyalty in their time of need?
Welcome to {grow}

You're in marketing for one reason: Grow. Grow your company, reputation, customers, impact, profits. Grow yourself. This is a community that will help. It will stretch your mind, connect you to fascinating people, and provide some fun along the way. I am so glad you're here.

-Mark Schaefer