Posts tagged
financial impact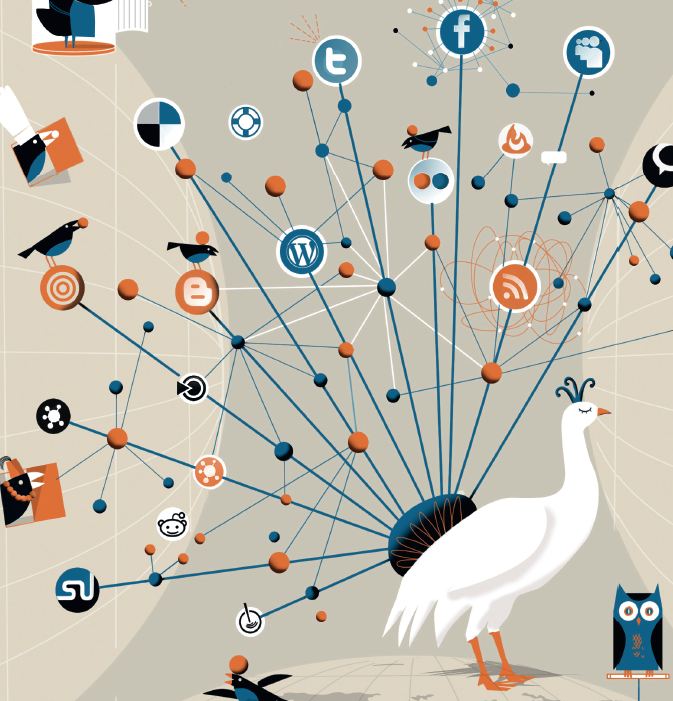 The Economist is one of my favorite magazines. I usually read it cover to cover. So imagine my excitement when I saw their special report this week, Social Networking: A World of Connections.
After I read the report, I concluded — to my surprise — that there was really not much new in the report. This is not a negative reflection on The Economist. I believe it's a positive reflection on the efficiency of Twitter to stream the most important news and trends my way before they get summarized by a business periodical.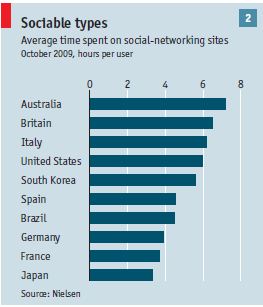 Nevertheless, there were a few interesting nuggets I wanted to pass along:
>>Follow me on Twitter signs are appearing on the doors and windows of small businesses around the world. Asurvey found that 17 percent of Britain's small businesses were using Twitter. They saved an average of $8,000 a year by cutting out other forms of advertising.
>>  A survey of 1,400 chief information officers conducted last year by Robert Half Technology, a recruitment firm, found that only 10 percent of them gave employees full access to social media networksduring the day, and that many were blocking Facebook and Twitter altogether. The  executives'  biggest  concern was that social networking would lead to "social not-working."  Some bosses also fretted that the sites would be used to leak sensitive corporate information.
>> An astonishing amount of time is being wasted on investigating the amount of time being wasted on social networks.  One study estimated that personal use of social networks during the working day was costing the British economy almost $2.3 billion a year in lost productivity. Another concluded that if companies banned employees from using Facebook while at work, their productivity would improve by 1.5%.
>> The magazine described Facebook's "hacker culture."  Their head of engineering's motto is "move fast and break stuff."  What matters is getting fresh products out to users quickly, even if they do not always work as intended. To generate new  ideas, they hold all-night hack-a-thons to at which engineers work on their pet projects. This Red Bull culture maybe why Facebook has just one engineer for every 1.2 million users.
>> Survey of 300,000 Twitters users showed more than half tweeted less than once every 74 days and 10 percent of all users account for 90 percent of all tweets.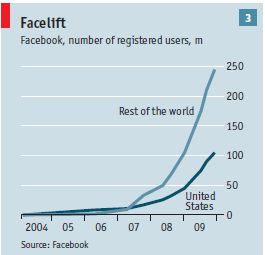 >> Facebook's audience is bigger than any TV network that has ever existed on  the  face  of  the  earth.
>>In Asia several social media companies such as Japan's GREE, South Korea's Cyworld and China's Tencent, are already making healthy profits from sales of games, premium personalization options, virtual goods, and custom backgrounds.
>>Salesforce.com predicts that demand for corporate internal social networking services will riseas managers realize that they now know more about strangers on Twitter and Facebook than they do about the people in their own companies.
>>Intel estimates it has saved millions of dollars a year in fees by recruiting senior managers through LinkedIn rather  than using headhunters. US Cellular said it saved more than $1 mm last year by using a LinkedIn system that produced good candidates faster than traditional recruitment channels.
>> Social networks have made the labor market more transparentin another way too. A survey by CareerBuilder.com of  2,700 executives last year found that 45 percent of them looked at job candidates' social network pages as part of their research, and more than a third of those had unearthed information that put them out of contention. Time to turn up those privacy settings?
Some interesting stuff!  Of these facts and trends, which jumps out for you as having an impact on the way you do business?
Illustrations: Part of The Economist report.
Welcome to {grow}

You're in marketing for one reason: Grow. Grow your company, reputation, customers, impact, profits. Grow yourself. This is a community that will help. It will stretch your mind, connect you to fascinating people, and provide some fun along the way. I am so glad you're here.

-Mark Schaefer