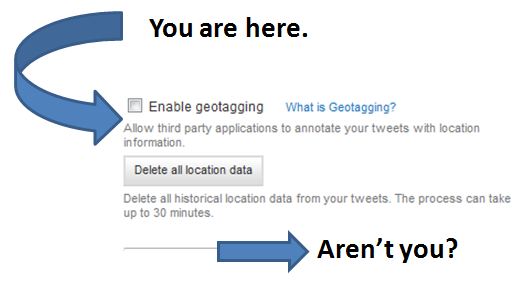 I wanted to write a post on the ability to "geotag" on Twitter but my friend Frank Podlaha is so much smarter than me and gratefully he contributed this guest post:
What the hell is it?
Twitter Geo-tagging is simply attaching your exact location to an individual tweet.   Not only does a tweet contain its message, it also contains the name of the person who sent it, when it was sent, etc.  That's obvious.  Recently, Twitter has allowed additional attributes to be tacked on each tweet, specifically your latitude and longitude coordinates of the tweet's location.
Your Earthly coordinates are your "geo-tag."  It's a very specific point on a map, ex: 35.9550,-83.9249 (paste that into Google Maps).  To use geo-tagging on Twitter takes a few steps.  First, the feature must be turned on for each Twitter account under the "settings" menu.  It is turned off by default.  Second, the geo-tag can only be attached to a tweet by third-party Twitter applications.  The main Twitter website does not attached a geotag.  Mobile phone applicationsare the most likely to attach geotags.  Ubertwitter is a mobile app with this feature.  And once a tweet is geo-tagged, you will need an application that can display this map point.  Tweetdeck, a popular Twitter desktop interface application, has this feature (look for the tiny yellow pushpin icon under certain tweets).
Why in the world would I want to do that?
"So let's get this straight.  I turn on the geo-tagging feature on my Twitter account.  I'm in the coffee shop and send a tweet from my phone that I'm laughing about a girl in a purple blouse that has a long piece of toilet paper stuck to her shoe. She reads that tweet, sees the geotag for that coffee shop, figures out she's in a purple blouse, finds me sitting in the corner, and whammo – I get hot coffee thrown at me.  What are you insane?  This is the craziest feature I ever heard of."
Yup, that's what it can do in all its creepiness.  But let's stop for a second.  Twitter is a public broadcasting system, really.  And a public message is so much more relevant when you know who, what, when, AND where.  Does it help to tell your friends which restaurant you're in (like in the game @FourSquare)?  Sure, sounds like fun.  Could a travel tweeting app help you find the next gas station with clean bathrooms?  That would be nice.  Could I brag in a tweet about robbing a bank and the police track me down?  Yes, you dumbass.
The business of geo-tagging
The business possibilities for geo-tagging go well beyond individuals spouting nonsense.  Twitter is that public messaging system, remember?  Many use Twitter for actual communications, oh my God.  There are numerous websites and applications that search specific cities to find local tweets.  These tweets are often displayed as content on their websites.  A tweet that is geo-tagged to that location will appear in that search.  In this way, tweets can be broadcasted to a small region.  Ah-hah, the light bulbs should be going off.  Take a look at the tweets from @LocalChirps with a geo-tag-ready client (like Tweetdeck).  Each message contains a different geo-tag specific to the message in the tweet.  One of these tweets may end up in a search for that specific city.  It's like sending banner ads directly to a targeted audience.
How about a trucking company tweeting status and location of your package?  How about a restaurant giving away a free dessert for the next person who tweets from within their store?  I could go on, but Mark asked to keep this post under 600 words.   Now it's your turn, what ideas can you think of for geo-tagging?
Frank Podlaha is a brilliant technologist, an inspirational entrepreneur and creator of LocalChirps.com
Welcome to {grow}

You're in marketing for one reason: Grow. Grow your company, reputation, customers, impact, profits. Grow yourself. This is a community that will help. It will stretch your mind, connect you to fascinating people, and provide some fun along the way. I am so glad you're here.

-Mark Schaefer