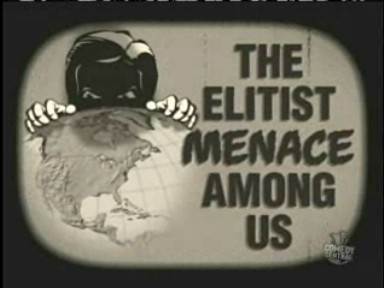 A communication industry site, ragan.com, picked up my recent post about why it's "ridiculous to argue about ghost blogging."  This was cool because it opened the topic to a new set of commenters and perspectives.
However, I was struck by some of the elitist views on blogging and wanted to address the issue here, instead of a long comment on that site.
What I mean by "elitist" is that some folks seem to uphold a narrow, sanctified view of blogging and dismiss those outside that view (i.e. "Blogs are by definition in their own class.")
One person opined that blogs should be different than any other form of corporate communication because they "grew from people's personal communications and because the audience for blogs expect it to remain personal."
Another reader commented that "Blogs are designed to be be participatory and conversational, with a discussion leader and participants in the discussion."
And, "To use a blog as a personal communication when it's not genuinely personal is an assault on the purpose of a blog and an intentional deception of readers."
Excuse me friends, but who is coming up with this definition of a "purpose of a blog?"
There can be MANY purposes for blogs …
For the highly-interactive, personal, and prolific Chris Brogan, the blog is an engine to build community and ultimately monetize services and affiliate advertising.
GE's stellar corporate blog features product ideas and solutions but has almost no reader interaction or community. They rarely even identify a post's author.
Caterpillar's blogs serve as forums for technical problem-solving and have an extremely high level of community sharing.
The Red Cross blog tells stories of heroes and global crises with authors from all over the world.
There is a whole science around connecting blogs to keywords and SEO results. In that analytical world, blog content is derived from probabilities, statistics, and a sales funnel. Personality need not apply.
For my daughter in college, a blog is simply a way to journal and tell her life stories — no strings attached.
All of these blogs are relevant and serve a unique purpose.  They may or may not be personal. They may or may not nurture community. They may or may not be participatory.
And they may or may not be authentic. Here's what I mean.  This challenge was posed to me on the Ragan site:  "How would people feel if the marketing/PR/comms guru types whose blogs they follow weren't written by those people. What if Seth Godin 's blog wasn't actually written by Seth Godin?  Would you be okay with that?"
Actually, I'm guessing Seth doesn't write his blog all the time.  The fact that he keeps a busy travel schedule, writes every day, posts a short riff from a speech or book, and doesn't allow comments (which would require a response) on his blog, indicates that it is probably ghost-written by an assistant, at least some of the time.  I don't KNOW this. It's a hunch.  But in any event, I am perfectly OK with that. It's his advice. It's his brand. It may even be him. Ghost or no, the blog provides value to me as a reader which is why I subscribe.
Bottom line, I believe it's anachronistic and short-sighted to try to force blogging into somebody's pre-conceived bucket of expectations.  Instead of trying to define and dictate what our blogs and communities should be, let's celebrate the amazing diversity of writing, readers and missions on the social web.
Illustration: Comedy Central
Welcome to {grow}

You're in marketing for one reason: Grow. Grow your company, reputation, customers, impact, profits. Grow yourself. This is a community that will help. It will stretch your mind, connect you to fascinating people, and provide some fun along the way. I am so glad you're here.

-Mark Schaefer