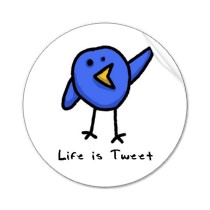 I had two very contrasting social web experiences in the past 24 hours that I wanted to share.
The first came from one of my students, who is urgently trying to learn how the social web can benefit her business.  Yesterday, she had exciting news to share: "We just had out first re-tweet!  I couldn't wait to tell my boss.  We are so excited!  Now … what do I do?"
We talked about the importance of community-building and connections and how RT's on Twitter are a nice way to compliment and reach-out to people.
The second episode came from a blog post I read from a Twitter personality who as far as I can see does nothing but re-tweet other people's links all day long. His post was about how he had now received more re-tweets than the Huffington Post and was one of the top-10 re-tweeted people on Twitter.   Who actually measures these things?  He made no connection between his RT's and personal relationships or any benefits other than he is on somebody's list. There were about a dozen comments on the post … none of them from him. There was no engagement, no community, no sharing.  For him, the ridiculous notion of re-tweet count was simply a mythical badge of honor.
These two stories illustrate the best and the worst of the social web.
If you authentically cherish and appreciate those who are connecting with you, you will ultimately succeed in creating personal and business benefits.  Can you hold on to the excitement you felt when you saw your first re-tweet, or the first comment on your blog?
If you approach this as a numbers game to validate your own self-esteem, people will easily see through your veneer and in the long-term you'll have a lot of meaningless followers trying to sell you a spot on the Trump Network.
Where are you on your social media journey?  Are you creating meaningful connections?
Welcome to {grow}

You're in marketing for one reason: Grow. Grow your company, reputation, customers, impact, profits. Grow yourself. This is a community that will help. It will stretch your mind, connect you to fascinating people, and provide some fun along the way. I am so glad you're here.

-Mark Schaefer